May, 2017
now browsing by month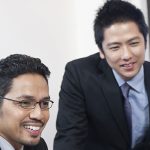 What Is a Coach?
Before it is possible to implement any coaching activities, the definition of a coach must be made clear. Understanding the roles and responsibilities of coaching as well as the challenges that coaches face will establish the foundation necessary for the moving forward in the process of becoming a coach for salespeople.
In the business world, a coach is responsible for increasing employee and company success. The goal of coaching is to develop employees at all levels, including productivity, adaptability, satisfaction, and retention. There are professional coaching positions, but any manager can be a coach who develops the best in their employees.
Coaches are not mentors, although they share some of the same roles. Coaches work to help people discover information on their own rather than relying on direct teaching methods. In any coaching relationship, it is necessary to develop trusting relationships based on confidentiality.
Being a good coach demands a clear understanding of the roles and responsibilities that a coach must provide. These roles include:
Challenge assumptions – Ask team members to consider their beliefs.
Offer encouragement – Celebrate achievements and build confidence in times of struggle.
Provide education – Help team members find skills, knowledge, and expertise.
Act as counselor – Develop interpersonal relationships between team members and those outside the team.
These roles that a coach plays requires balance. It is important to avoid focusing so much on one role that you fail to address others.
For more on our Coaching Sales People course, please visit: https://corporatetrainingmaterials.com/course/Coaching_Salespeople
What is Initiative?
Initiative is something we can all use in our careers. It is what sets us apart from others and our competition. Many people are afraid to take the initiative, but if you can, you will stand out. Initiative is deep down inside all of us, but the successful ones are the ones who use it.
It is important to know what initiative is to properly utilize it. Initiative is defined as the ability to assess and initiate things independently. In other words, it is taking advantage of the opportunities in front of you. It is stepping up, and going beyond your typical duties. Take charge of situations before others do. You may not want to step out of your comfort zone, but usually you will be rewarded for doing so. It is thinking outside the box, preparing for success, capitalizing on opportunities. It is making changes to take a step forward and being persistent.
Benefits, Personal and Professional
In life, taking initiative offers many benefits. It is a positive step that anyone can take for themselves. Only you can take the initiative for yourself, so ensure you do it. Taking the initiative provides individuals with a sense of self-control both in their personal and professional lives. No one is going to offer you opportunities if you do not deserve them, so stepping up will make all the difference in your life.  In your personal life, it may benefit you by helping you feel more confident with yourself. In your professional life, it may help you get that coveted promotion. In either aspect of your life, it will promote better things.
Taking initiative promotes:
Control
Achievement
Confidence
Proactivity
Inspiration
Self-Awareness
Creativity
Fear-busting
Why People Do Not Take Initiative
Not everyone is comfortable with taking the initiative, or even knows how to do so. It is something that is developed mentally and takes strength to do. Some individuals have a bounded rationality. These individuals are unable to see past what they currently know. They cannot see the benefits of stepping up. Typically, the individual has never thought about it. Also, individuals do not take the initiative due to a lack of capability. Outside their general knowledge, some individuals do not possess the expertise to take the initiative for a more difficult task. Execution over innovation is also another popular reason that individuals do not take initiative. These individuals only focus on their own work, and do not have concern for any new tasks.  Finally, some individuals are too busy to take the initiative. There is already too much on their plate, and they physically and mentally cannot process anymore work.
Reasons for not taking the initiative:
Bounded rationality
Lack of capability
Execution over Innovation
Task overload
It is our duty to make initiative a priority in both our professional and personal lives.  To make initiative a priority, we must first understand what it is and what its benefits are. Once we understand this, we can take the leap forward. To make taking initiative a priority, we must watch for opportunities. We must be aware of our surroundings, and what can potentially be a fantastic opportunity to do so.  In your professional career, if you see that your boss needs help with something, offer it! Show that you are a go-getter.  Take the extra step when you can! People will take notice of your initiative, and you will be rewarded positively.
For more our Taking the Initiative course, please visit: https://corporatetrainingmaterials.com/course/Taking_Initiative