sales training
now browsing by tag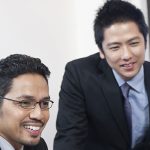 What Is a Coach?
Before it is possible to implement any coaching activities, the definition of a coach must be made clear. Understanding the roles and responsibilities of coaching as well as the challenges that coaches face will establish the foundation necessary for the moving forward in the process of becoming a coach for salespeople.
In the business world, a coach is responsible for increasing employee and company success. The goal of coaching is to develop employees at all levels, including productivity, adaptability, satisfaction, and retention. There are professional coaching positions, but any manager can be a coach who develops the best in their employees.
Coaches are not mentors, although they share some of the same roles. Coaches work to help people discover information on their own rather than relying on direct teaching methods. In any coaching relationship, it is necessary to develop trusting relationships based on confidentiality.
Being a good coach demands a clear understanding of the roles and responsibilities that a coach must provide. These roles include:
Challenge assumptions – Ask team members to consider their beliefs.
Offer encouragement – Celebrate achievements and build confidence in times of struggle.
Provide education – Help team members find skills, knowledge, and expertise.
Act as counselor – Develop interpersonal relationships between team members and those outside the team.
These roles that a coach plays requires balance. It is important to avoid focusing so much on one role that you fail to address others.
For more on our Coaching Sales People course, please visit: https://corporatetrainingmaterials.com/course/Coaching_Salespeople
Communicate to Motivate
Studies show that organizations with open, frequent communication between management and employees tend to foster motivation. Communicate with your sales team often to help keep the motivation flowing. Also encourage your team members to communicate with you. By keeping the lines of communication open, you are better able to head off problems, learn what the team needs, and understand what will motivate both the whole team and individual team members.
Regular Group Meetings
Along with frequent check-ins, regular group meetings are a key channel of communication. While email and phone calls are vital tools in today's workplace, face-to-face meetings are invaluable for creating a sense of shared goals and connection. Schedule regular meetings with the entire sales team. These might be weekly, monthly, or quarterly depending on the set up of your organization. However often you decide to conduct them, keep to a regular schedule so that there is consistency. Use regular meetings to discuss successes and setbacks, challenges, and needs. Also use them as a time to simply check in with each other, build relationships, and otherwise establish or reinforce shared goals and values. Ensure that meetings are not just management giving orders, but are instead composed of two-way communication with team members.
Regular One on One Meetings
In addition to regular meetings with the entire team, it is key to take the time to meet one on one with individual team members as well. Individual meetings offer you a chance to get to know each team member and what motivates him or her. They are also a place to discuss issues or needs that individual team members might not feel comfortable bringing up in a group setting. Depending on the size of your team and the structure of your organization, the frequency of these meetings will vary. What is important is that they occur on a regular basis and that they serve as a setting for two-way communication between you and individual members of your sales team. Use this time to explore motivations, goals, needs, successes, and challenges with each team member in a setting where he or she has your undivided attention.
Focus on Strengths and Development Areas
A key to using meetings – team and one-on-one – to motivate is focusing on both strengths and development areas. These meetings should neither be wholly about what is going "wrong" nor entirely about praising success. Take the time to recognize the team or individual's strengths first, reinforcing how valuable they are. Also take time to point out areas where the team or individual can grow and improve, and use part of the meeting time for creating next steps or a development plan. Never call out an individual team member's development needs in front of the whole team – save that feedback for your individual meeting. Use team meetings to focus on strengths and development needs for the team as a whole, and focus on individual strengths and development needs in the one on one meetings. Also use the team meetings to reinforce shared goals and the mutually interdependent nature of the team.
Ask for Feedback
A major feature of motivational environments is that the communication is two-way. You will provide a great deal of feedback in the regular meetings with your sales team. Be sure to ask them for feedback as well, in both the team meetings and individual meetings. It may be necessary to offer training in how to give useful feedback, if your sales team is not used to be asked to provide feedback to management. Model good feedback behaviors as well, by not personalizing feedback and by focusing on shared values and goals. Encourage your team members to give you regular feedback in between meetings as well. Reinforce that their feedback is how you will know what they need, how they are doing, and how you can support them. Asking for feedback shows team members that you and the organization value them, which can motivate them and lead to increased investment in the work.
For more on this course, please visit:
https://corporatetrainingmaterials.com/course/Motivating_Your_Sales_Team
Performing a Needs Analysis
Clients need many more things than you might be planning to sell them. The more you can do for a client, the more you will be seen as a valuable partner. Here are some suggestions about how it might be possible to meet some other client needs:
Information. You might be able to act as a consultant to a client, providing information about the latest developments in your field.
Training. If you provide a product that requires some training, make training part of the package.
Financing. If your company does not provide financing, put the client in touch with banks that do.
Community. Communities often grow up around particular products, especially high tech products. Introduce clients to users groups or trade organizations.
Personnel. You probably know a number of capable people who are thinking about changing jobs. Helping a client find skilled employees can benefit everyone involved. If the people you recommend are hired, they will become some of your strongest advocates.
For more on our Sales Fundamentals training course, please visit:
https://corporatetrainingmaterials.com/course/Sales_Fundamentals